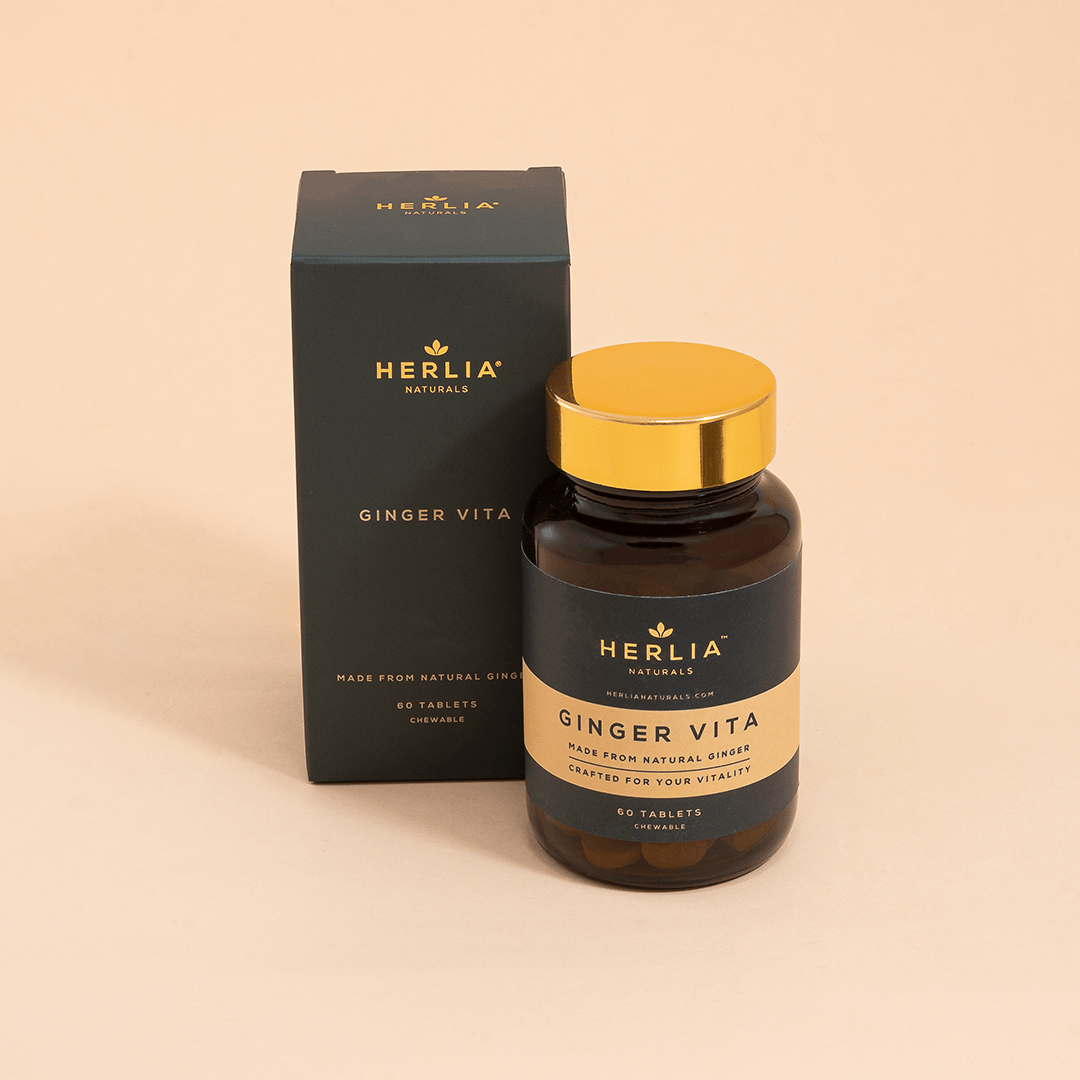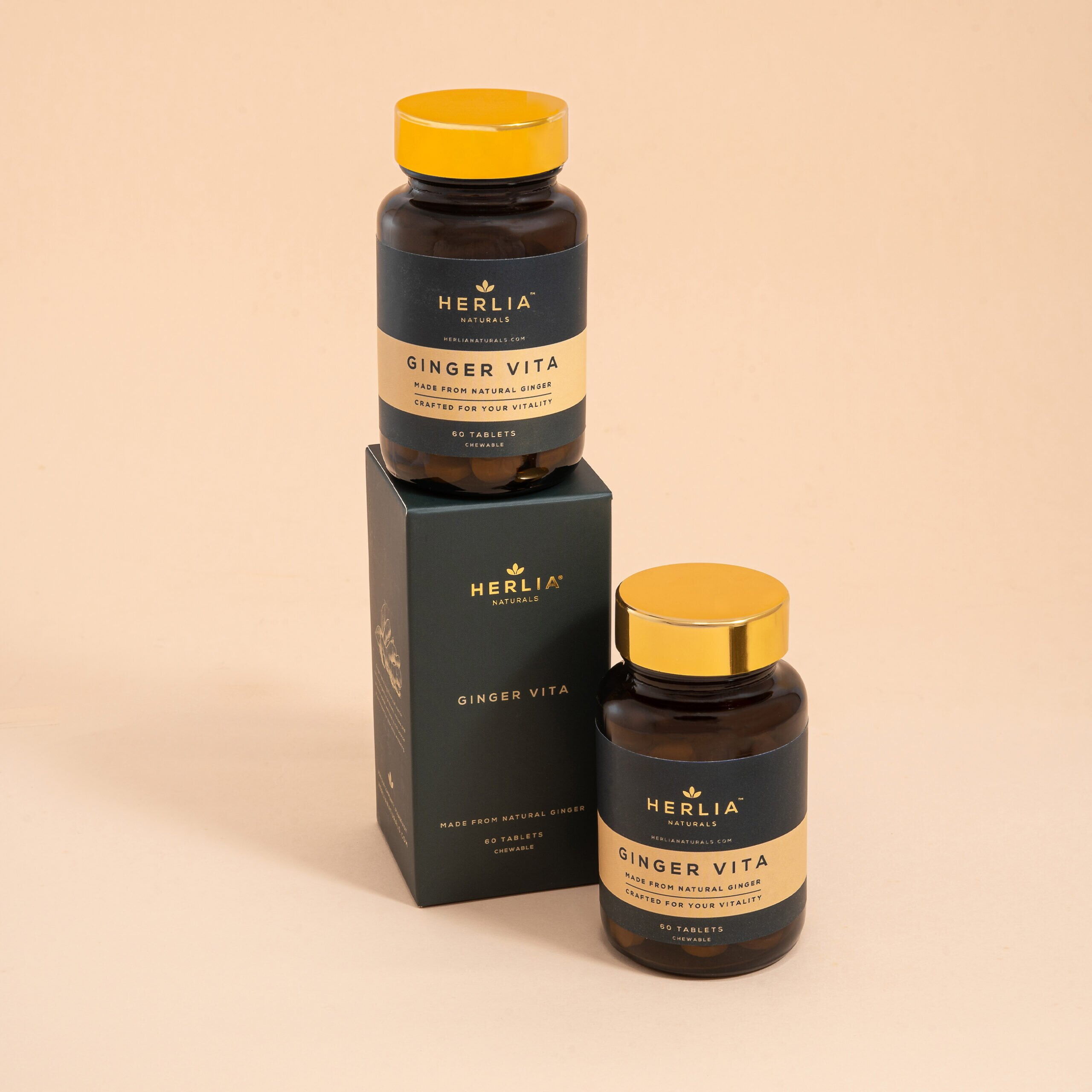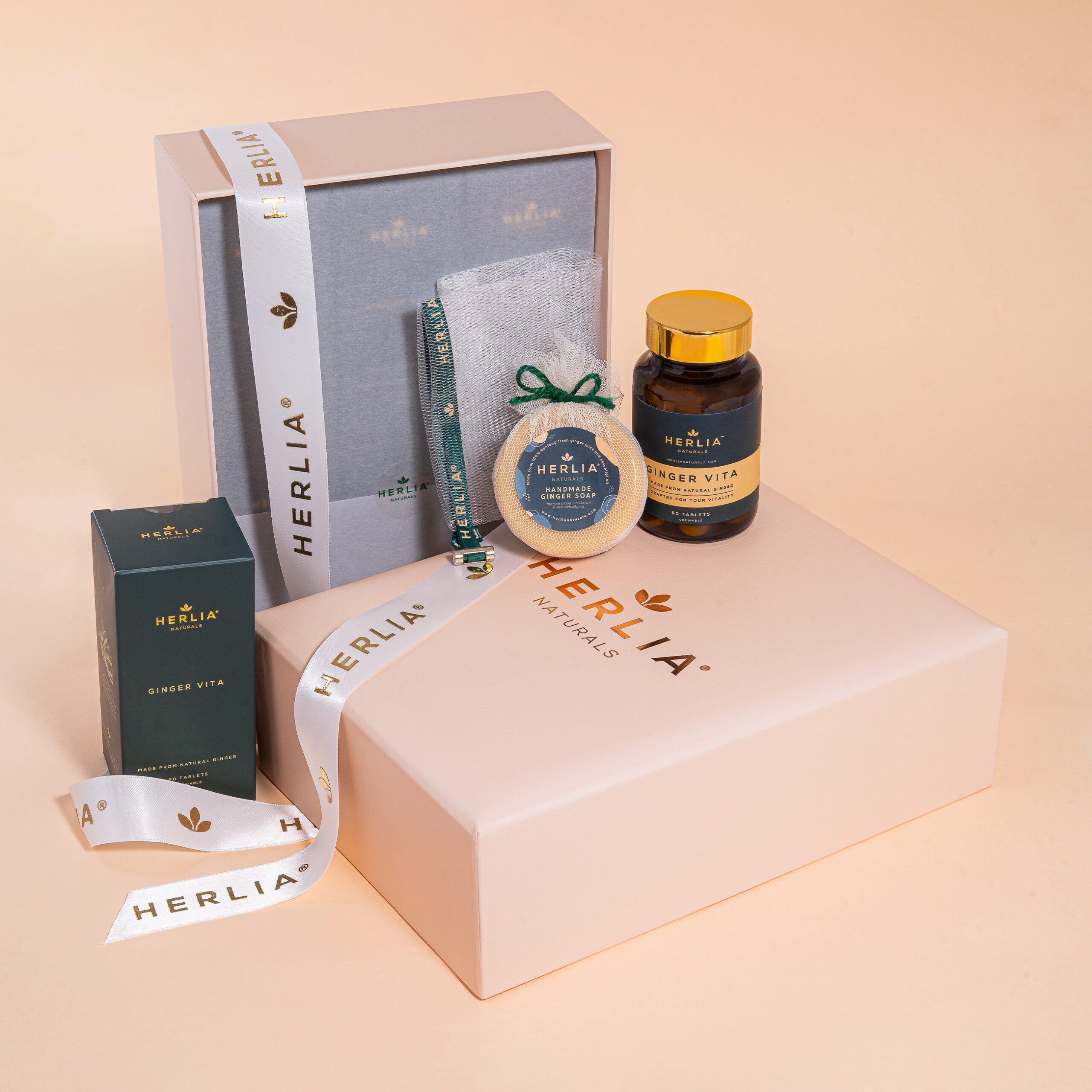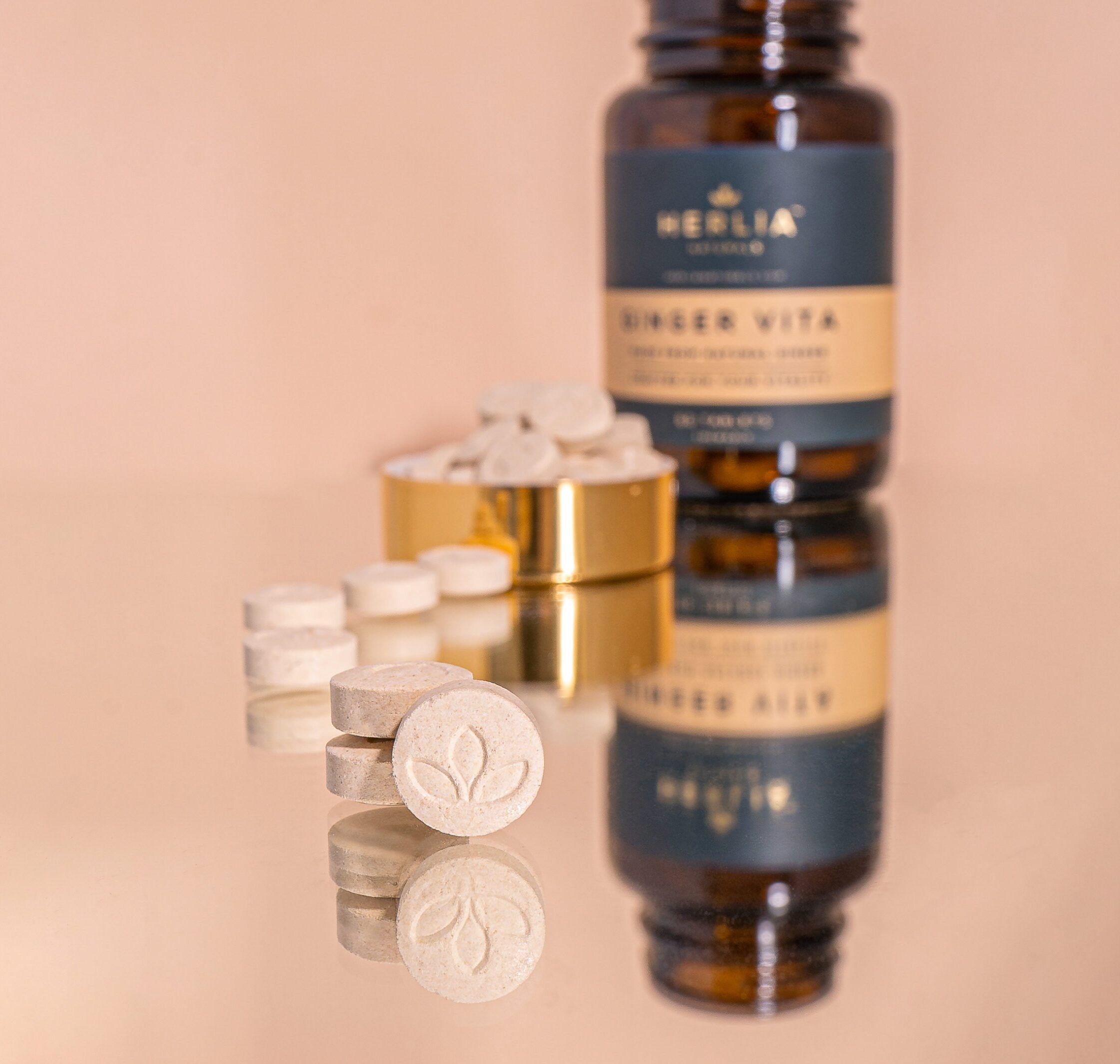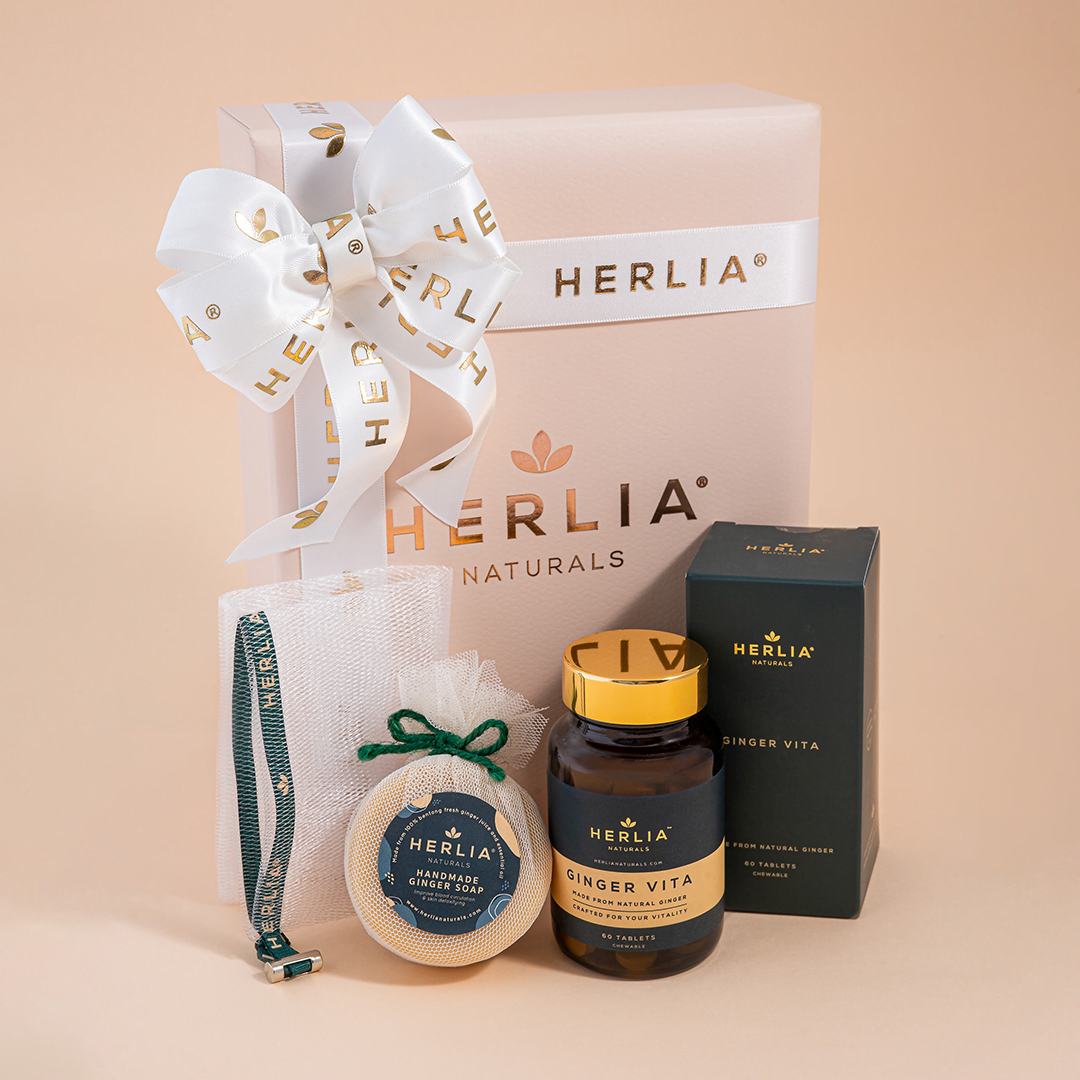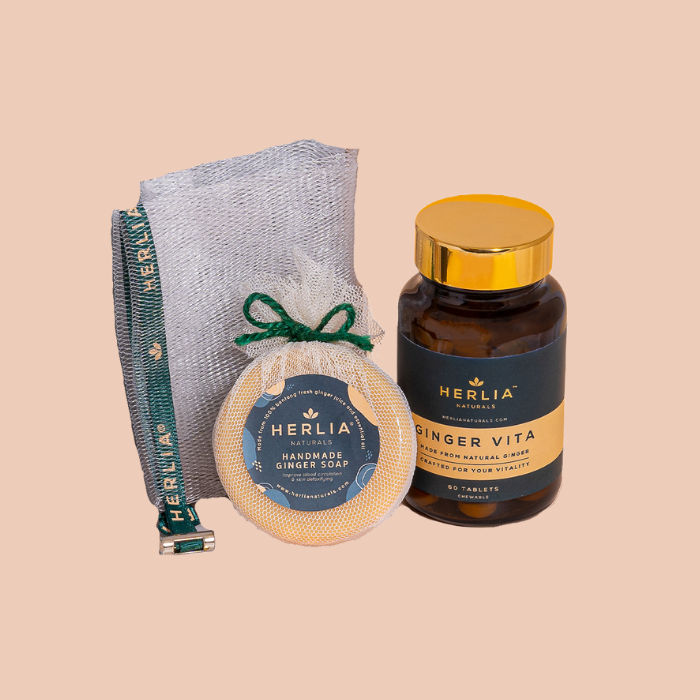 Herlia® Naturals Ginger Vita
100% natural Bentong Ginger Extract formulated effectively to:
Reduce Period Pain
Improve Digestion & Alleviate Bloating
Help in Weight Loss
Immune Booster
Aging Deceleration
Warming up Cold Hands & Feet
Improve Oral Hygiene & Freshness and Soothing Throats
2 tablets =250mg Bentong Ginger Extract
Suitable for
Vegans & Halal Certified by Jakim
.
Best for
Pregnant & Confinement Women
.
Each bottle contains 60 tablets
For optimal results, it is highly recommended to adhere to a minimum treatment cycle of at least 2 bottles.
Health Benefits
Immune Booster
Best natural remedy to kill cold virus and to boost the body's immune system with its strong anti-inflammatory & anti-bacterial properties and best for osteoarthritis and rheumatoid arthritis to reduce swelling and pain due to inflammation.
Improve Digestion & Alleviate Bloating
Boost the digestive system by stimulating your stomach acid & digestive enzymes to solve from indigestion and gas to bloating.
Help in Weight Loss
The anti-obesity action of ginger results in inhibiting intestinal fat absorption. It also increases the basal metabolism that acts as a fat burner.
Improve Oral Hygiene & Freshness
Reduce the oral bacteria that lead to cavities and to gum disease, removes plaque due to its main ingredients Gingerol and Raffinose while strengthening your gums and preventing inflammations.
Reduce Period Pain
Suppress pain receptors & protects the body from inflammation by inhibiting the body's prostaglandins production and ease women's period pain.
Aging Deceleration
The powerful antioxidant that helps to lower down the level of free radicals significantly and to protect the cells against toxic effects.
Warming Up Body (cold hand & feet)
Excellent for improving blood circulation and blood flow to the whole body. Increase oxygen level to the extremities to reduce hands & feet numbness.
Solutions. Convenience.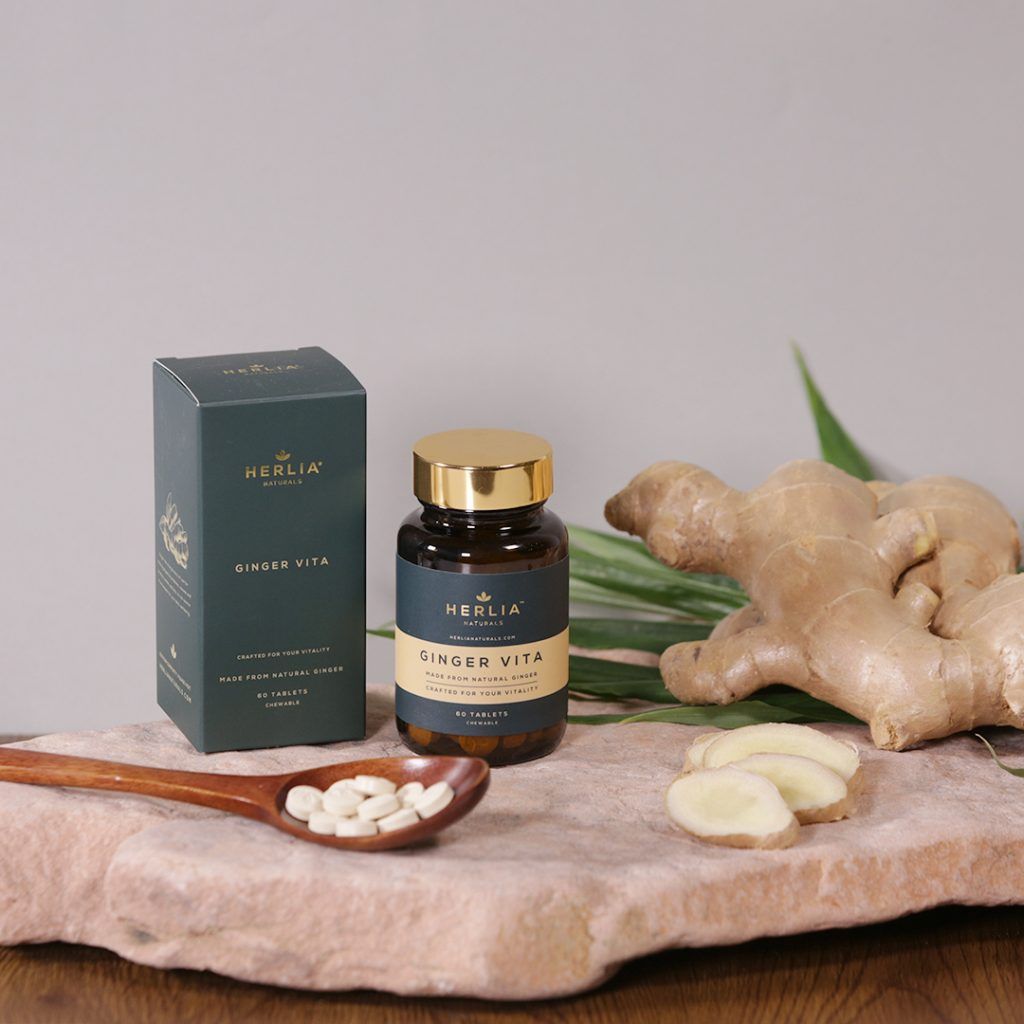 HERLIA® NATURALS GINGER VITA is made using the highest quality ginger originated from Bentong, Malaysia. We begin the process by extracting fresh ginger and later form them into an easy to consume & convenient tablet form.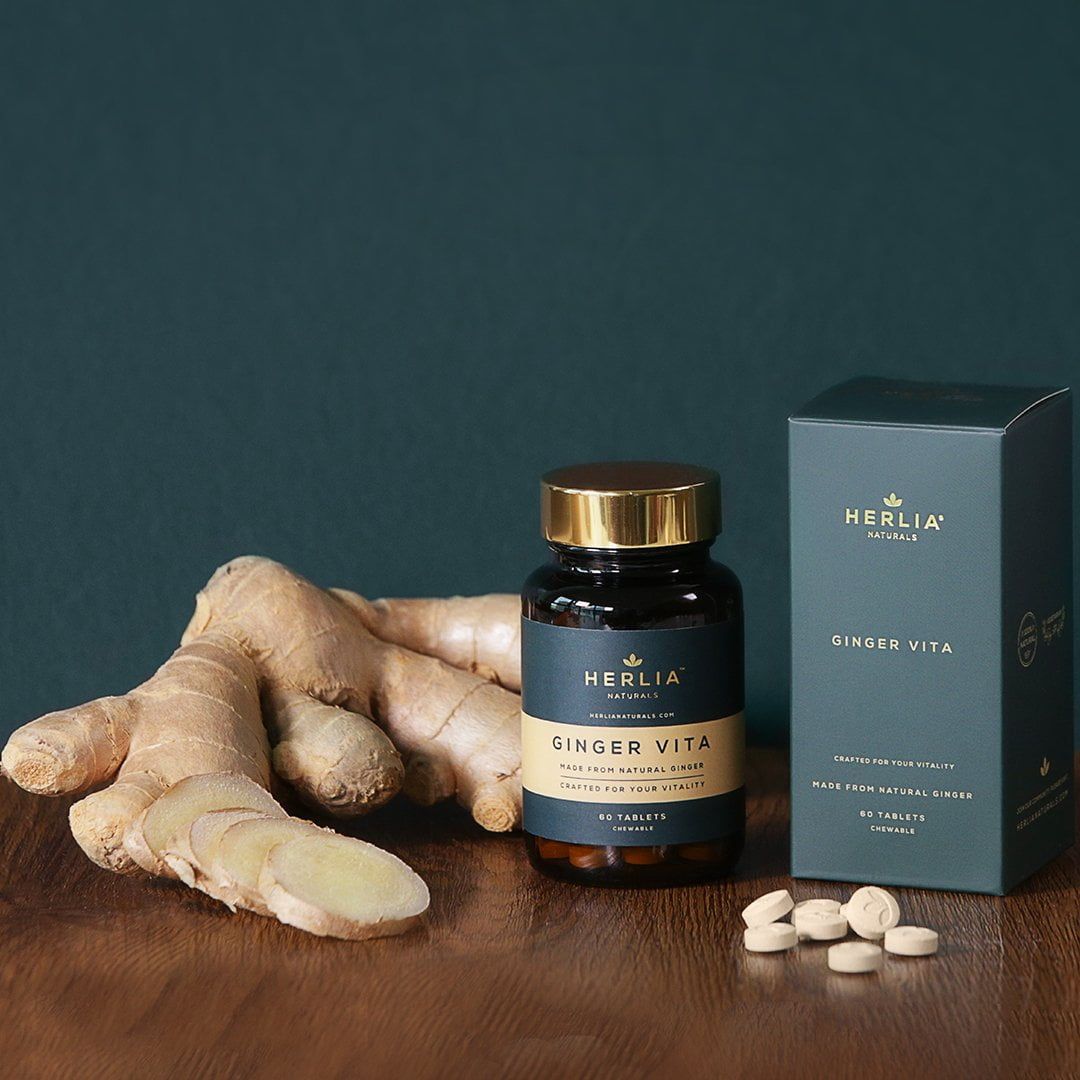 Usage Direction
Consume 2 tablets a day with meals

Store below 30°C in a cool or dry place
Recommendation
Recommended to start with 3 bottles for optimal results.
Each Tablets Contains:
100% Pure Bentong Ginger
| | Per 100g |
| --- | --- |
| Energy | 273 kcal (1147 kJ) |
| Carbohydrate | 49.6g |
| Dietary Fibre | 36.4g |
| Total Sugars | 19.7g |
| Protein | 0.5g |
| Fat | 0g |
| Sodium | 20.0mg |
Size
Special sizing procedures to make sure one bottle fits one-month supply and easy to bring-a-long anywhere at the same time.
Design
Perfect color mixing specially done for the overall design of this bottle.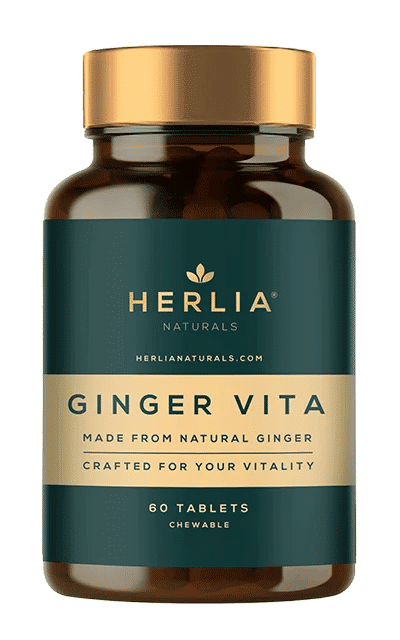 Premium Gold Cap
Smoothly manufactured gold color cap that enhance the experience of uncapping te bottle.
Style
Take this around and feel the fashion, it's also super instagrammable! Consume your daily dosage whenever you want.
Diana Wong
PMS gone!
Reviewed a year ago
It's good! For me I don't have period pain but always have very bad PMS before period, bloating, body heavy and breast pain. After taking Herlia, surprisingly I don't feel anything anymore before period!
MaggieT
Period pain improved
Reviewed a year ago
After start taking only around 2 weeks before my last period, i can already feel my period pain is not as pain as like time during my period. I feel shocked on this amazing results! Will continue to consume
Barbara
Thank youu 😘
Reviewed a year ago
It does solve my period pain! I'm taking daily, not only solve my period pain and my period become more accurate and normally lasts for 4-6 days. So happy!
Katrina Lee
This product is so so so amazing
Reviewed a year ago
I wish I have met HERLIA earlier, so I won't need to suffer from my period pain and also my cold hand. My problems are really solved.